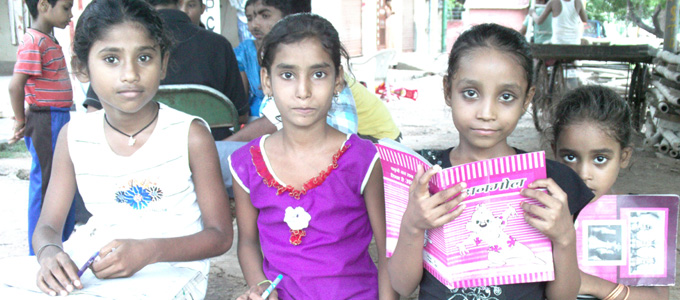 ALHF Learning Centres Tour
A Little Happiness Learning Centre Gwalior and Morar
Brief Profile of Gwalior: Gwalior is a historic city, erstwhile capital of the Scindia dynasty. It also has the historic fort in which the Sixth Master, Guru Hargobind Sahib was incarcerated by the then rulers.
Sikligars in Gwalior-Morar: Oblivious to the mainstream about their presence, 8- 10 Sikligar families live in Indra Colony behind the historic Gwalior fort. Most of them have kutcha houses and are expert ironsmiths. Most of them double-up as traders during the many social and religious fairs, during which they stay away from homes, with their young sons, selling locks and other hardware material.
Morar is a very small town 15 Kilometers from the historic city of Gwalior. There is only one artisan family there with 3 children. One child studies under the aegis of ALHF Learning Centre Dabra. The other two children have been admitted to a local school this year.
ALHF in Gwalior: Since the last one year all children of this habitat have been admitted to a school nearby. Prior to admission last year, children participated in a pre-school supplementary education programme at the hands of a young and efficient tutor. One of our bright and responsible students died last year due to wrong medication. Her parents are running a small grocery shop in her memory in their house.
Total Number of Students: 9
School: Bright Public Higher Secondary School, Gwalior
Academic Results 2011-2012: But for a couple of kids, the children are doing exceptionally well.
Challenges: The parents of children are dynamic and are in need of micro-finance to augment their incomes.