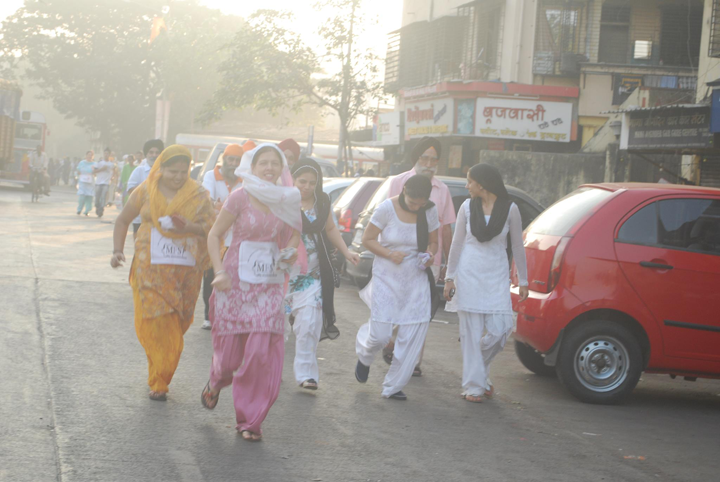 Mumbai Sikhs run for Sikligar Awareness
By Taranjit Singh
101 year old Dhan Kaur, 6 month baby Avreet Kaur and 3 month baby Darneshwar Singh in the arms of their mothers, with more than 700 young and old activists from various corners of Mumbai, ran a 6 kilometre marathon from Gurdwara Dashmesh Darbar upto Khalsa College and returned back to Guru Nanak School in the famous Guru Tegh Bahadur Nagar locality of Mumbai in the Miles for Sikligars campaign organized by the newly formed Tegh Sewak Jatha.
This first of its kind marathon march organized with fervour and zeal by young activists to bring SIkligars into the mainstream and generate support for their education and empowerment, received an overwhelming response in the early hours of 16 December 2012.
101 year old Dhan Kaur completed the entire stretch and reminded the people that there is a lady 'Fauja Singh' amidst them. When asked about her participation, she said, "At this age, I am happy to be part of the Sikligar awareness campaign. I want to tell all Sikhs to pitch in and contribute wholeheartedly to organizations working for the welfare of the Sikligars."
The marathon participants were given a boost by onlookers and volunteers who provided biscuits, snacks, tea and water along the route at four check-points named after the four sons of Guru Gobind Singh Ji -Sahibzada Ajit Singh Ji, Sahibzada Jhujar Singh Ji, Sahibzada Zorawar Singh Ji, Sahibzada Fateh Singh Ji.
At the finishing point, participants and volunteers were shown the recently-released mini- documentary SIKLIGAR, produced by A Little Happiness Foundation and made by US- based video artiste Mandeep Singh Sethi. Activist-leader Kulwant Singh provided graphic details about the life and status of Sikligars to an audience reduced to tears after seeing the documentary. Kids and children watched the documentary with abated breath as they could not believe that Sikhs could be so poor. This was the first screening of the documentary in Mumbai after its launch on the Internet on International Human Rights Day -10 December 2012.
The humble activists of Tegh Sewak Jatha distributed the Miles for Sikligars campaign flyer which gave a brief description of the Sikligars and contact details of A Little Happiness Foundation and Akhar SOH –two of the many organizations that work for the amelioration of the condition of Sikligar Sikhs in various parts of the country. Participants were seen keenly reading the flyer. "I am taking this home to let other Sikhs know about our brethren and plan to do as much as we can." said young participant Manjit Singh.
Taranjit Singh is a young professional web designer and ALHF activist in Mumbai