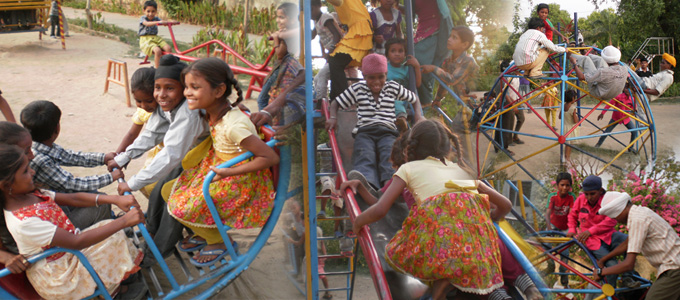 ORGANISE A CHILDREN's TOUR
Pilgrimage is our heritage and every person rich or poor desires to visit religious places at least once in a lifetime. We all know that the desire to visit historic places, tourism centres, has been enhanced with the proliferation of the visual media.
At every interaction with poor families, one question they always ask is, "when are we going to go out of our town?" It was highly ironic to note that children and their parents living in Agra had not been to seen the Taj Mahal -barely an hour's drive within the city.
When 15 participants of the First ALHF Children's Summer School visited various picnic spots, historical and religious places in New Delhi in the summer of May- June 2012, despite the killing heat, their joy knew no bounds. Travelling in the Delhi Metro, children felt the joy of a Disneyland ride. Children were thrilled to go down history at the Qutab Minar and India Gate.
A Little Happiness Foundation is keen to organize regular tours within the city where our learning centres are located as well as take them on excursions, picnics and the occasional pilgrimage.
Would you like to share a transport facility for our children? Would you like to share resources to make this journey possible?
Believe us, by doing so you would be enhancing their learning experience, making them happy and cheerful, reinforcing the value of education and strengthening community bonds.
Share Today. Write to us at: assistance@alittlehappiness.org