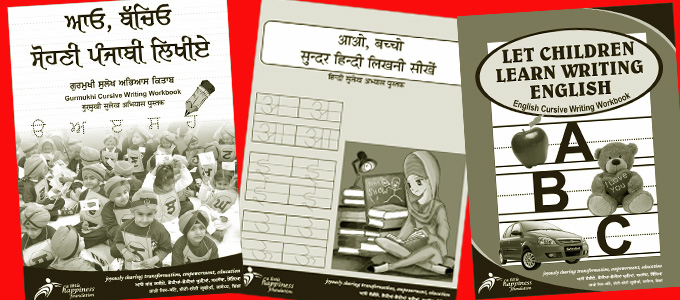 SPONSOR ALHF PUBLICATIONS
Children's Books are getting out of reach for the poorest of the poor. ALHF picked up English, Hindi and Punjabi Cursive Writing Books. All these publications are exorbitantly expensive, with few lines to a letter and are used to improve hand-writing only in a cosmetic manner.
The academic team of A Little Happiness Foundation decided to take a plunge into publications by developing unique, simple and inexpensive Cursive writing books in Hindi, Punjabi and English. Each of these books is designed to improve the handwriting skills of students and will be constantly monitored by tutors and counsellors. The writing of the alphabet, its pronunciation and its word usage will be supported through power-point presentations and small fun-filled videos, which have been especially designed by ALHF.
The Cursive Writing Book in Punjabi has been completed and that in Hindi is nearly complete.
We seek support for printing 500 copies each at the initial stage. The name of the contributor will be printed on the books.
Write to us at: publications@alittlehappiness.org