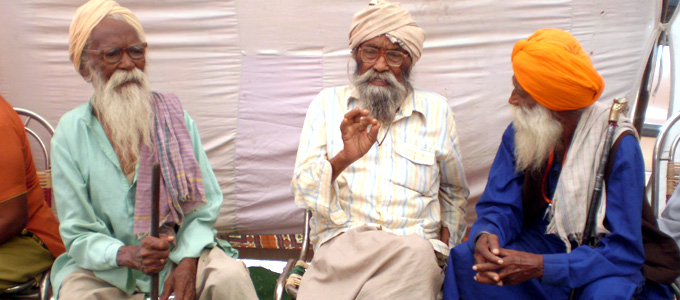 History
Nearly four years ago, we started responding to the call of the Sikligars. Since then, we have travelled extensively, visiting the habitats of our traditional weapon-makers and weapon-polishers in Hyderabad, Bangalore, Mysore, Pune, Gwalior, Dabra, Ludhiana, Jaipur, Alwar, Agra, Mathura, Vijaywada, Hoshangabad, Sultanpuri area of Delhi and Meerut.
We started with the education of a few young adolescents in Alwar, Rajasthan. Gradually, we added the education of children in Gwalior and Dabra in Madhya Pradesh.
Alongside the education work, we are engaged in an anthropological and sociological study of the Sikligars. We have discovered and authenticated some very interesting and significant aspects of their background, customs and rites, attachment to ironsmith work of any kind, kinship bonds, vagabond life, peculiar stereotypes, total denial of higher education to girls and boys, links to Rajasthan and connection and contribution as members of the Sikh community.
As we realized through field studies that education, health and sanitation were totally neglected areas of their life, we decided to organize ourselves and expand our team from a handful of volunteers to a full-fledged working team. Thus in November 2010, A Little Happiness Foundation was launched to streamline the work of empowerment of these traditional artisans and education of their children.
Since then, we have expanded our horizons to provide education to the children in a slum of Agra, two villages of Agra district in Uttar Pradesh and the city of Hoshangabad in Madhya Pradesh.
With much more to learn and work upon, we are on the trail of those forgotten by the vagaries of time and negligence.