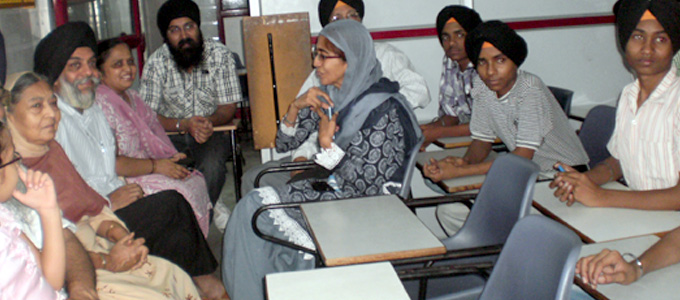 SNEH -TELE-MENTORING
SNEH is showering love, enhancing dignity and sharing joy.
Over the years, we have discovered that there is a dire need to stay in regular touch with the Sikligar children. The environment in their habitat and at home makes it highly difficult for them to study and focus on the tasks given to them for studies. The distractions are far too many and at times the economically disadvantaged situation makes it worse. Exceptionally good students feel the need for regular follow-up.
Who is to be mentored?
1. All children above 8th standard at all ALHF centres will be part of the mentoring scheme.

2. Parents of these children will also be part of the mentoring process.

3. The child is bright and has tremendous potential to be a role model to his fellow students in a particular ALHF Learning Centre or for the whole lot of Sikligar students in general.

4. The child has failed regularly and is at risk of dropping out of studies.

5. A girl student who is likely to be married soon.

6. The father of a child is a chronic alcoholic.
SNEH Goals:
1. Create a relationship of bonding and affinity to the child and his family.

2. Increase the self-confidence of the child.

3. Create love for studies, sports and hobbies.

4. Enable the child to enhance his skills for studying and daily time management.

5. Ensure regular school and tuition attendance.

6. Inculcate spirit to assist younger students in their school and tuition work.

7. Students of standard tenth and above to initiate adult education in their family and neighbourhood.

8. Help create harmony amongst family and neighbourhood through consistent sharing.

9. Prepare students for life after school.

10. Enable the child to think of a career based on his ambitions, dreams and needs of the child and his family.

11. Monitor the child's health.

12. Update the family's profile and prepare a list of needs to be taken care of.

13. Ensure that the child lives an ethical life.
Reporting and Follow up: On the basis of the reports received from each counsellor, upon review of the financial needs of each student, the child's interest in education, ALHF will endeavour to take care of extra coaching, educational, clothing and health needs of deserving children.