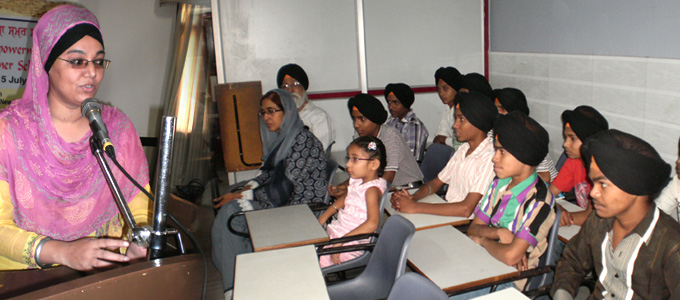 VOLUNTEER-MENTOR
SNEH beckons YOU:
No one will disagree that "the greatest need for kids today is another caring human being in their life." Anyone who has more than one is doubly blessed. That other one can be YOU in the life of the disadvantaged child.
Do you love children? Do you love using the mobile and talking to friends and relatives? Do you love sweet talk? Are you a good parent?
What does a Volunteer-Mentor do?
1. A volunteer Mentor is required to devote 2-3 hours in a month and commit this for at least one school academic year.

2. A mentor spends time with a student one-on-one, through mutually arranged weekly or bi-weekly phone calls and interactive internet sessions.

3. A mentor will speak to the respective tutor of the child every fortnight.

4. A mentor provides academic assistance, guidance and support for school work and bridges the gap left by teachers and tutors.

5. The ALHF Student Counsellor of the respective ALHF Learning Centre will ensure that each child interacts with his or her mentor through Skype at least once in two months.

6. A mentor will speak to the parents of the child once a month.

7. A mentor will always be a caring friend of the child and his or her family.

8. A volunteer-mentor is required to file monthly reports and updates of every child through email or ordinary mail to the core team.
Meri Padhai ki Golak: Each volunteer-mentor will contribute Rs. 200 per child per month, while the parents of the child will contribute Rs. 100 per month in a joint account of the child and the mother, the amount to be withdrawn in case of health emergencies or for college admission needs.
So, if you are interested in the progress of the next generation, motivated to make a difference in the lives of children of our erstwhile artisans and have good communication and problem-solving skills,
Join the ALHF Tele-Mentors team.
Write to us at volunteer@alittlehappiness.org