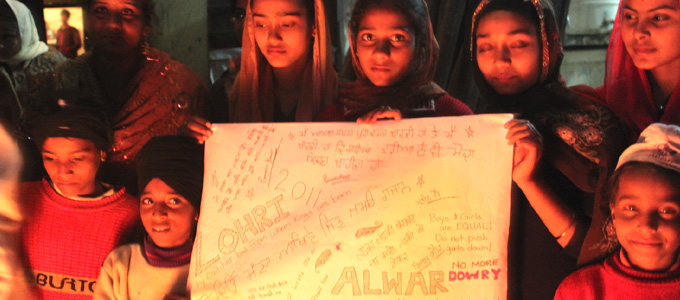 ALHF Learning Centres Tour
ALHF Learning Centre Alwar and Khairthal
Brief Profile of Alwar and Khairthal :
Nearly 150 kilometers from New Delhi, a little off the Delhi-Jaipur highway is the historic city of Alwar. A city of gardens and parks, it has a tiger sanctuary and many historic forts and buildings.
It is also the historic city made famous by one of its key residents and heroes – late Panth Rattan Giani Sant Singh Maskeen.
The enterprising Sindhi community has put the nondescript small town of Khairthal on the map. Around 25 kms from Alwar, it is a bubbling small town with lot of social, religious and commercial activity.
Sikligars of Alwar and Khairthal:
In Alwar, Sikilgars live in three habitats, namely Sardar Colony, Guru Nanak Colony and Guru Gobind Singh Colony, Mungaska. Close to 300 families live in these three centres. Most of them are self-employed as iron fabricators, RCC craftsmen and ironsmiths.
Many of them are repatriates from pre-partition Sindh, from where they came to Delhi and the villages of Alwar district where they were given some land by the government. Unknown to agriculture, they sold their lands at dirt-cheap prices. The main habitat is around the railway tracks, a kilometer or so away from the Alwar Railway station.
ALHF in Alwar and Khairthal
Germane to the idea of empowerment of an individual or community is the nurturing of young talent amongst the youth of that community.
Sikligars of Alwar are our nursery of young talent. We have invested time and energy to enhance the skill sets of young boys and girls, preparing them for higher studies, vocational jobs and development of their personality.
Since the last few years a good number of students have passed the 10th and 12th Open Exams through the Rajasthan Open School Board. Some have failed in some subjects, but because of the easy Open School System, there is determination to continue to study.
Three of our boys are pursuing graduate degree in Bachelor of Social Work from IGNOU. Two are pursuing studies in Bachelor of Arts. All the young students in Alwar will soon be attending English and Computing skills classes. Likewise, in Kharithal which is 25 kilometres from Alwar, young boys and girls are pursuing 10th open studies through the Rajasthan School Board.