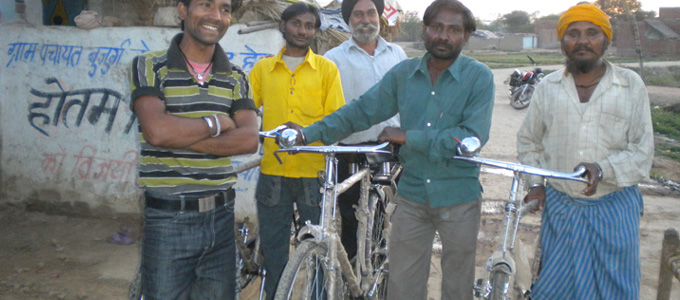 Kind Enough
A Little Happiness Foundation invites you to be kind. Kind enough. Contribute in kind.
Contribution in kind is a great way of supplementing cash donations for our work in the field of education and empowerment.
Every household and business can be kind enough. Pre-used good quality clothes, pre-used laptops and desktop computers, old office furniture, old home furniture, cutlery, toys, games, sports material –you will be surprised how these can spruce up the life of a family living below the poverty line.
Corporate houses, traders and businessmen can contribute Note Books, school bags, computers, projectors, smart education equipment and software for the ALHF Learning Centres. This year we will appeal for emergency lights, battery- powered fans, solar cookers, mosquito nets and net covers for food to be given to families whose children study under the ALHF education program.
Guru Nanak High School Ranchi donated a few thousand books, which they had received gratis from book publishers and which are now being used by our children to practice hand-writing skills, English language skills and basic reading skills.
Households in Ludhiana and Delhi has provided pre-used home material, including pre-used mobile phones in working condition which have been given to the poorest of the poor, providing succour and relief to the beneficiary family.
Our team-mates in Mumbai have contributed notebooks for the children. An industrialist associate in Delhi has contributed printed compass boxes for all the 300 plus students this year.
Garment manufacturers in Ludhiana regularly contribute their seconds and new material –T Shirts, children's clothing, blankets, shawls and ladies clothing material. Last year, a philanthropist trader in Bhopal joyously shared 150 blankets amongst the children in Hoshangabad, Gwalior and Dabra.
Volunteers from Canada brought children's education and fun kits for over 150 kids and children in the ALHF Learning Centres at Agra.
Some years ago, prior to the formation of ALHF, a philanthropist family from Ludhiana donated cycles to families in Dabra. Do you know what a cycle means to a Sikligar? It is much more than a car to a family living in our cities. Even today, those who can afford it, give a cycle as a gift in marriages.
Do you have an old car in good working condition? Don't sell it. Donate it. We will use for transportation of children to schools, making their life a little easy. -Just a little happiness.
So, be kind enough. Contribute in kind.
Make a small difference. Share.
Creating a little happiness is all about joyously sharing.