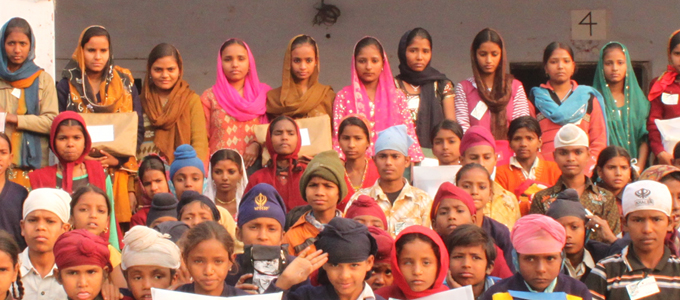 ALHF Learning Centres Tour
ALHF Learning Centre Agra
Brief Profile of Agra: This city famously associated with The Taj Mahal has been the cradle of Mughal politics. The city, which is a footwear industry hub for the country, has seen substantial development over the decades, though like all Indian cities, the status of the poor is dismal to say the least. The traffic is chaotic. Agra has many reputed educational institutions.
Sikligars of Agra: In the district of Agra, Sikligars live in many rural and urban habitats. The poverty level of Sikligars families in Agra is acute. Men and women tend to goat and sheep; do menial jobs and locksmith work to eke out a living. Most of them live in slum like conditions. Basic sanitation and health facilities are totally missing. It has taken us gigantic efforts to convince parents to send their children to school. While most children are going to school, there is still massive resistance as parents see children as extra hands to earn a livelihood.
ALHF in Agra: A Little Happiness Foundation started educational activities in Agra in 2011-2012. Prior to that, we did a comprehensive survey of the three main centres of living of the artisans, virtually none of whose children were going to school.
Total Number of Students: 160
Schools:
Agra Glory Public Inter College, Agra
Shri Ram Vidya Mandir. Punwari, Agra
Shri Ramchandra Public Inter College, Bainpur, Agra
National Open School
Guru Nanak Nagar: The main centre of Sikligars is on the Sikandra-Bodla road, in a slum area, which has been christened Guru Nanak Nagar by the Sikligars. Nearly 80-90 families live here.
Bainpur: Village Bainpur is the next centre of living, around 5 kms from this place, behind Akbar's tomb on the Delhi Agra road. Children of around 10-12 families living here have been adopted by ALHF. The poor residents of this village, for the last many years are facing social pressure from so-called high caste people who have made repeated attempts to usurp their lands and Kutcha houses. It is remarkable that these poorest of poor are now engaged in a bitter legal battle to save the roof over their heads.
Panwari: Village Panwari is around 15 km from Agra city. This village too has a history of caste based social tensions. The Sikligars live in their own habitats, some have some legal documentation for their lands, and most of them do not have any such documentation. They all work as locksmiths. Men and women do farm work during the harvesting season.
Academic Results 2011-2012:
Last year, out of the nearly 150 students who pursued education in different schools under the ALHF SEEDS programme, all students cleared their exams, with some students doing exceptionally well. Considering that this was their first year in school it was creditable that students are showing interest in school.
Challenges: Like in all places, a key challenge is the disinterest of parents for schooling their children. During the last year, we have had several parents-children-activists meetings, including the First ALHF Children's Empowerment Camp during the winter vacations to help sustain children's interest in studies.
As there are more centres within the district, in the coming years, we need to cover these areas as well, as the close family ties between the residents of various habitats results in sharing of the progress of children in education amongst various centres kindling interest in new areas.
We are pleased to say that a few of the working youth have shown interest in pursuing education through the Open School system.