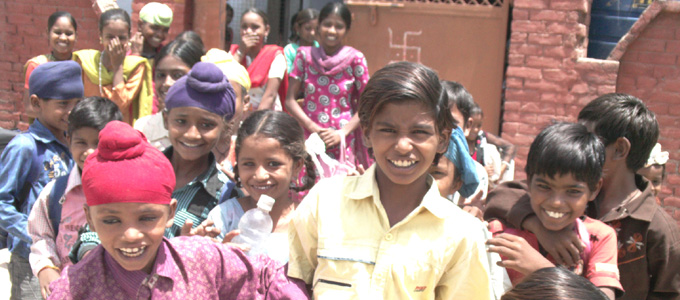 ALHF Learning Centres Tour
OUR LITTLE HAPPY WORLD
Joyously sharing transformation, empowerment, education

More than three years ago, we started listening to the call of the Sikligars. Since then we have covered much ground. In November 2010, A little Happiness Foundation was formed to streamline the work of education and empowerment of children of our traditional artisans.
Our humanitarian work is in the field of education for disadvantaged sections of society, who live in sub-human habitat and are devoid of educational, social and health facilities. All our work benefits under-resourced children who belong to Below Poverty Line families and whose parents, due to economic reasons and illiteracy, are unable to provide education and quality time to their children.
The work of A Little Happiness Foundation involves a detailed enquiry into the status and needs of the under-privileged people in their areas of habitat, anthropological studies, identification of children not going to school, measuring and monitoring levels of sanitation, scale of indebtedness, working capital needs, implementation of social recognition and welfare schemes of union and state governments, housing needs, specific women's and children's needs and prevalence of diseases and their prevention.
ALHF Learning Centres: A Little Happiness Foundation runs and maintains Little Happiness Learning Centres for children, in Alwar and Khairtal in Rajasthan; in Dabra, Gwalior and Hoshangabad in Madhya Pradesh; and the slums of Guru Nanak Nagar in Agra city, villages Punwari and Bainpur of Agra district in Uttar Pradesh.
Students from the Little Happiness Learning Centres have produced exceptional results in their classes as well as in sports.
Prospects for 2012-2013: ALHF proposes to enhance activities in Madhya Pradesh, Uttar Pradesh and Punjab. In many new places basic survey and research has been done. Supplementary Education classes will be started in Mathura and Kastganj in Uttar Pradesh.
We also propose to start adult education classes for the traditional artisans, ironsmiths and locksmiths in centres where the ALHF Learning Centre projects are doing well.
ALHF plans to provide more audio-video resources, small reading rooms cum libraries, sewing and stitching centres, computer centres in all the existing and proposed Learning Centres.
We propose to provide mosquito nets, kitchen food covers, solar cookers, smokeless-chulhas , emergency lights and spread joy and relief among the womenfolk.
Be part of the transformation. Today. Tomorrow may be late.