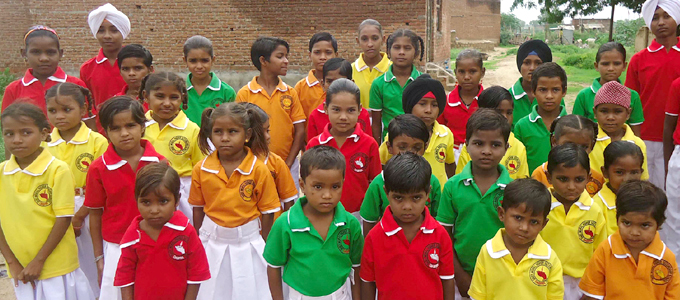 ALHF Learning Centres Tour
ALHF Learning Centre Dabra
Brief Profile of Dabra: Dabra -a sleepy small town, around 45 kilometers from Gwalior, located midway between Gwalior and Jhansi, is one of the biggest grain collection centres of India, like Khanna in Punjab. Significantly, though the town has a very small Sikh population, villages around Dabra have a sizeable number of Sikhs, some of which have made this area their home even before the partition of the sub-continent in 1947.
Dabra is fast emerging as a satellite city of Gwalior, with a large number of industrial establishments, housing complexes and educational institutions coming up in the area between Dabra and Gwalior and similarly between Dabra and Jhansi.
Sikligars of Dabra: Around 25 families live in hutments desperately earning a living through hard work as locksmiths and ironsmiths. They have been living here for the last 40 years or so, just living from day to day, barely able to make any difference to their standard of living. Some families, whose menfolk have gone out of Dabra in search of work, have managed to build a small room or two in semi-pucca houses. The Sikligars live in two habitats, namely Guru Nanak Nagar and Jawahar Nagar.
ALHF in Dabra: A Little Happiness Foundation made its presence in Dabra some two years ago, even prior to the formal formation of the body. In these two years, our Sikligar children in Dabra have passed their exams with flying colours. We are thrilled at the results of the children, particularly seeing their mark sheets full of good marks, high grades and their trophies.
Total Number of Students: 44
Schools:
1. Daisy Moral Children's Higher Secondary School
2. Jagriti Public School
3. IPS Public School.
Challenges: The Sikligars of Dabra are hardworking but unorganised. ALHF believes that micro-credit to the families can enable them to earn more and also provide work to womenfolk.
The movement of some families to other areas of living is another challenge amongst the residents of this habitat.
The quality of water, non-availability of water and the invariably worse power situation makes living very difficult for the children, sometimes forcing them to stay away from school.